Building a stash is a hard thing to do for a beginner -- mostly a matter of what & where. What type of yarn do I buy & how much? Where do I go?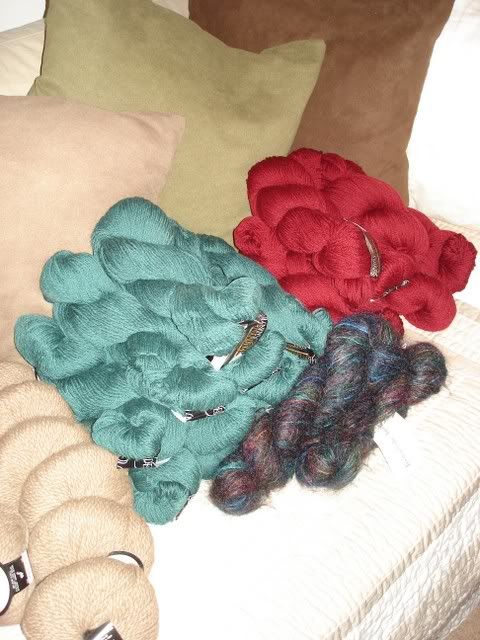 When a friend mentioned a yarn sale in Spring, TX; she could have told me we would visit the dark side of the moon -- Greater Houston covers Such A Large Geographic Area.
I made plans the night before. I knew I wouldn't go That Far Away For Yarn anytime soon. OK, which patterns do I add to my list? OK, calculate the yardage sizing, add the pattern name and yarn weight/stitches per inches. Armed with a shopping list of Multiple projects -- you never know what you'll find -- we went, we saw, we stockpiled.
Why, oh, why is the number of available skeins just one short of the pattern requirement? I went through four yarn choices (each short one) for the
Oat Couture Celtic Cardigan
alone. The lime/teal yarn combo above is the Santa Fe Shawl for my mother-in-law. The coral/lime/pink yarn is for my husband's grandmother.
So, an all day trip to
Twisted Yarns
and also
the Hen House
netted my first yarn stash for 2 shawls and 4 sweaters! Since I have always bought end-of-season for the following year, it made sense to do the same with yarn -- especially since it will take that long to knit for Christmas!